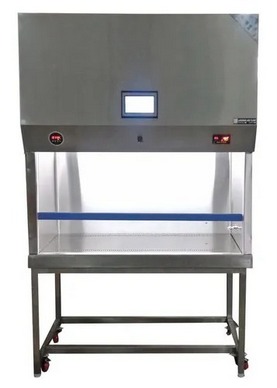 Laminar Air Flow Workstation (Vertical) SS
Laminar Air Flow Workstation (Vertical) Complete SS
Switches: Microprocessor based Touch panel for Blower, LED light & UV light. (UV light with Timer). Motorized front door of toughen glass.
Pre filter: 90.00% down to 5 micron
HEPA Filter: ISO 14644 class 5 (class 100) 99.97% -99.99% down to 0.3 micron. Mesh guard for protection of HEPA filter.
Airflow: Top to downward
Noise Level: 60 decibel -+5%
Velocity:- 0.35-050m/sec.
Work Table: Made up of stainless steel 304gr. Cock for gas on work table.
Front door: Made of Toughen Glass. (Motorized).
UV Lamp: 15/30w, make Philips Holland.
Illumination: LED Lights for easy operation.
Pressure: Digital Manometer 0-50mm range with filter failure alarm.
Power supply: 230v -+10v/50 Hz single phase AC.
Cabinet: Cabinet made of 304gr. Stainless steel.
Electricals: 15/5 AMP Sockets with switch.
Heavy Duty Blower: Dynamically balanced with 0.25HP Electric Motor Mounted on anti-vibration pad 1440rpm motor.
Safety Features: - Voltage fluctuations protection. Micro switches for UV & LED lights.
Stand: castor wheels for easy movability. Front wheels lockable with brakes.