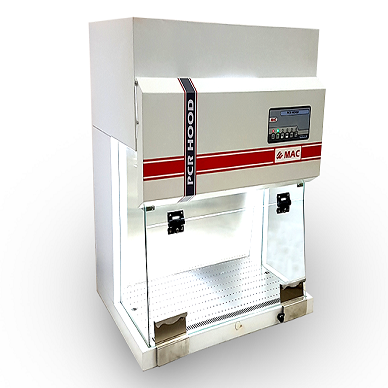 PCR Hood
Specially designed for containment of DNA carry over and neutralization prevents cross contamination down from previous amplified DNA fragments.
Features
No compromise when space is at a premium.
Partially recirculating downflow cabinet with air being filtered by a HEPA (H14) filter with 99.995% overall collection efficiency on 0.1 – 0.2 m particles (MPPS), before entering the work area at a speed of 0.45 to 0.55 m/sec; this ensures a Class 100 (FED STD 209E) – ISO 5 (ISO 14644-1 Standard) environment throughout the work area.
Two configurations are available: INWARD air barrier and OUTWARD air barrier, that can be easily chosen by a simple mechanical operation.
INWARD air barrier. An air barrier is pulled through the front opening and recirculated with the downflow air by a motor blower. 70% of the air is returned to the work area through the main HEPA (H14) filter and 30% is exhausted into the environment through an air filter with gravimetric efficiency of 99% ensuring excellent product protection as well as an outstanding containment.
Removable perforated work surface and back wall of the work chamber made of AISI 304 stainless steel
Front panels in tempered glass
Hinged front window
Centrifugal Motor blower
Soft-touch keys on the control panel provide control of fan and fluorescent lamps lighting
Elapsed time-meter for HEPA filter (Option)
Tubular Stand (Option)
UV lamp.
| | |
| --- | --- |
| Model | #PCR-2.5 |
| Work Chamber Dimensions (W x D x H) mm | 745 x 435 x 500 mm |
| Overall Dimensions (W x D x H) mm | 820 x 580 x 790 mm |
| Front Opening Height (mm) | 180 |
| Power Supply | 220/240 V - 50 Hz |
| Power W | 200 |
| Noise Level | dB(A) ≤ 65 db at 1.5 mtr. distance in open field condition |
| Lighting Lux | 1200 |
| Tubular Stand (option) | MS tubular stand duly powder coated (option) |