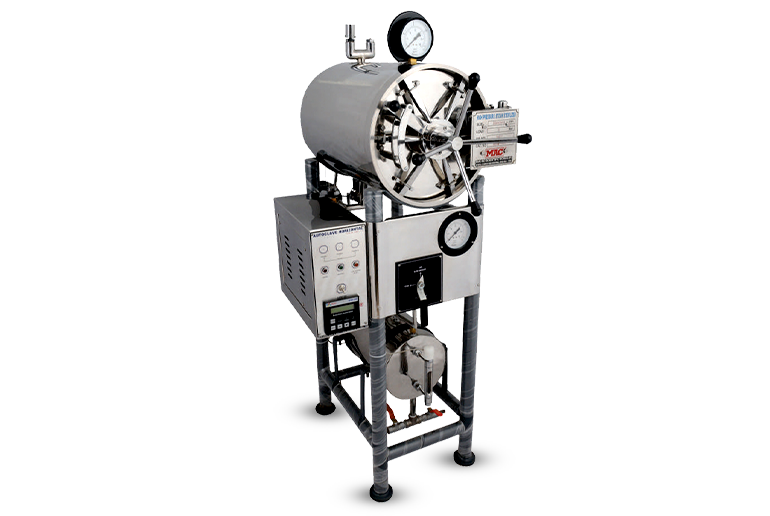 AUTOCLAVE HORIZONTAL (CYLINDRICAL DOUBLE WALLED)
Horizontal Double Walled Autoclaves are most ideal for critical applications requiring assured and reliable total destruction of all living micro-organisms.
An ideal tool for Laboratories, hospitals, nursing homes, R & D labs, etc.
Double walled unit horizontally mounted on a sturdy, heavy M.S. duly painted.
Both inner chamber and outer wall made of S.S.
Pressure is adjustable from 10-20 psi.
Fitted with pressure gauge, safety valve, and steam release valve.
Available with the separate boiler.
For units fitted with S.S. Boiler, separate valves for injecting the steam into the main chamber and releasing the steam in the atmosphere after use are provided.
Automatic vacuum breaker is provided to break the vacuum in case of formation of vacuum due to steam condensation.
Automatic Low Water Level Cut-off Device fitted for the general safety of the element.
Fitted with Automatic Pressure Control Switch.
Fitted with dial thermometer to indicate the inner chamber temperature.
Lid is made of thick machined Mild Steel plate lined with stainless steel from inside
Supplied without jacket (Double walled chamber with separate boiler).
Industrial grade energy efficient heaters reduce power bills drastically.
Model
#AH-22
#AH-40
#AH-50
#AH-78
#AH-98
#AH-187
Inner Dimensions (Dia x Depth)
250×450 mm
300×500 mm
350×550 mm
400×600 mm
450×600 mm
550×750 mm
Capacity
22 ltrs
40 ltrs
50 ltrs
78 ltrs
98 ltrs
187 ltrs
Heater Load
3.0 KW
3.0 KW
4.0 KW
6.0 KW
8.0 KW
8.0 KW
Display
A separate temperature indicator is provided
Exhaust of Pressure
Automatic through a manual exhaust valve
Sterilizing Pressure
1.2 kgf /cm² (15 psi) at 121ºC
Operating Pressure
From 15 Psi to 20 psi
Pressure Gauge
0-2.1 kgf /cm² (30 psi)
MOC (Pressure Vessel)
Stainless Steel (SS-304)
MOC (Boiler)
Stainless Steel (SS-304)
MOC (External Wall)
Stainless Steel (SS-304)
MOC (Lid)
Made of thick machined Stainless Steel plate
Tubular Stand and Support Ring
Made of mild steel
Power supply
220/230V AC, 50/60Hz or 430/440 Volts, 3 Phase Supply
Gasket
Made of Jointless Silicon Rubber
Technical Specifications & Ordering Informations
OPTIONAL ACCESSORIES
Digital Temperature Indicator can be supplied in lieu of dial thermometer.
Microprocessor Based Semi-Automatic Digital Controller with Auto-Time Control System. After the set temperature is attained the timer starts automatically and on completion of the set count down/uptime the supply to heaters is cut-off and the system sounds a buzzer alerting the user that the cycle is over.
PLC Controller with Automatic Digital Minute Timer and alarm for the end of the cycle. It enables automatic purging of state air, sterilizing hold time for sterilizing period and cycle and with the automatic exhaust of pressure. With scaled Digital Pressure Indicator displayed directly on the main control.