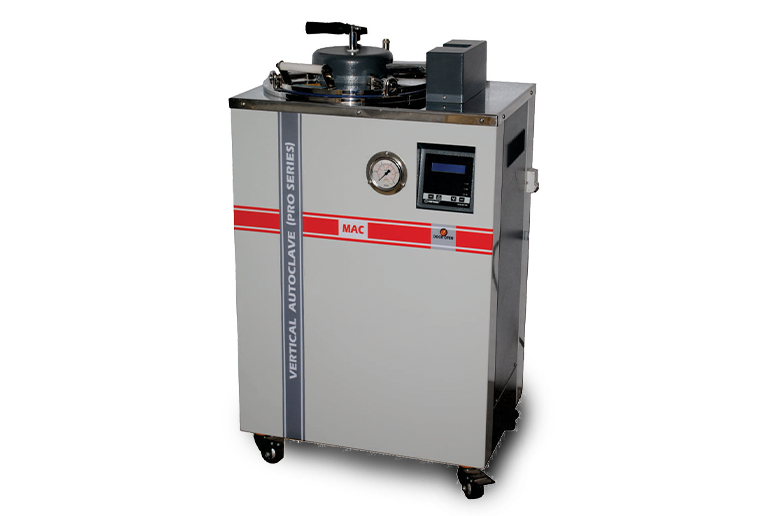 Vertical Autoclave
Leakproof silicon gasket
Over pressure safety
Safe and sturdy chamber manufactured from Stainless Steel (SS-304)
Low water level cut off for safety of heating elements.
Independent safety for over temperature protection.
Saves Power bills by upto 30%
Heat cured epoxy coating on steel exterior OR Stainless Steel exterior (as ordered).
Electrical on/off safety switch
Easy draining of chamber
Easy portability and placement and movement
Usage Portability
Single lever locking of lid for faster operations.
Heater and pressure interlock for lid lock safety.
Effortless lifting of lid with assisted spring push back support
Accurate temperature control with user level flexibility. Display process and set values simultaneously.
Microprocessor Based Fully Automatic Fuzzy Logic Control System with Alphanumeric Digital backlit LCD display.
Automatic Steam purging and exhaust
Fitted with AUTOMATIC DIGITAL MINUTE TIMER which starts automatically when set/desired value of temperature is achieved. When the set time period is over the heaters get switched off automatically with alarm for cycle end.
With LCD display data logger with REAL TIME, DATE, TIME etc directly on PC (SOFTWARE OPTIONAL) or direct on DOT MATRIX PRINTER.
| | | | | | |
| --- | --- | --- | --- | --- | --- |
| Model (CRC) | #AVF-43(PROFAD-CRC) | #AVF-64(PROFAD-CRC) | #AVF-91(PROFAD-CRC) | #AVF-135(PROFAD-CRC) | #AVF-210(PROFAD-CRC) |
| Model (SS) | #AVF-43(PROFAD-SS) | #AVF-64(PROFAD-SS) | #AVF-91(PROFAD-SS) | #AVF-135(PROFAD-SS) | #AVF-210(PROFAD-SS) |
| Inner Dimensions (Dia x Height) | 300x500mm | 350x550mm | 400x600mm | 450x710mm | 550x760mm |
| Capacity | 43 Ltrs | 64 Ltrs | 91 Ltrs | 135 Ltrs | 210 Ltrs |
| Heater Load | 3.0 KW | 3.0 KW | 4.0 KW | 4.0 KW | 5.0 KW |
Technical Specifications & Ordering Informations