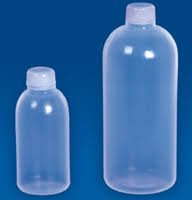 Reagent Bottle (NARROW MOUTH)
These Narrow Mouth Reagent Bottle are available in Polypropylene as well as Polyethylene. The PP bottles are rigid, translucent and have excellent contact clarity. These bottles can be autoclaved filled as well as empty. On the other hand, the Polyethylene bottles too have excellent strength and are unbreakable. The Polypropylene Cap has a built in seal ring to make these bottle leakproof.
Available Different Sizes: 60,125,250,500,1000ml.